Dieze Bridges Den Bosch
Five bridges make a place
The new rail and car bridges across the medieval Dieze River arrive in a sort of no man's land. But appearances are deceiving. This area will develop in coming years into the Water District, the living, working and leisure area of 's Hertogenbosch. The technical reference design was unfortunately just simple concrete slabs on top of a forest of columns. Our design study and associated design guidelines show another ambition: five bridges that by their careful positioning strengthen the urban fabric and by their industrial design set the tone for the planned urban development in the area.
This ambition is very expensive. The municipality, ProRail and the Province of North-Brabant chose for the design anyway, happily for the city. Since the last bridge was completed in 2015, you can now see for yourself the value of the extra investment. What a place!

Details
Date

2011-2015

Product

Urban design guidelines

Clients

Municipality of 's-Hertogenbosch and Prorail

Project website

Contact

Andries Geerse
andriesgeerse@welovethecity.eu

In cooperation with

Architectenbureau Marius van den Wildenberg
Five bridges make an urban place
%pubdate%
The Ministry of Infrastructure & Environment, the Province of North-Brabant and the municipality of 's-Hertogenbosch have chosen for the future of the city.
view details
Follow the construction
%pubdate%
Heijmans is the contractor of this highly complex project.
view details
A crucial set of images
%pubdate%
This series of images, the technical reference for our design concept, shows the value of an extra investment in quality.
view details
Map of Dieze Bridges
%pubdate%
Visit the site on google maps.
view details
Design guidelines Line & Encounter
%pubdate%
In the design guidelines we set out the main principles for the integration of the bridges plus accompanying noise barriers. You can download the document here.
view details
Impression by ProRail
%pubdate%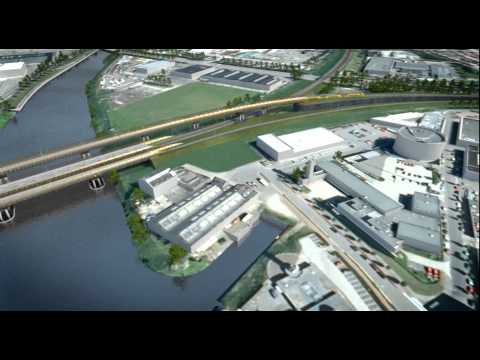 view details
Completion of Royal Welsh bridge
3 November 2015
The last of a series of five bridges over in 's-Hertogenbosch
view details
Railways in Den Bosch
4 November 2013
Nominated for Concrete Award 2013
view details
's Hertogenbosch: The first train
15 April 2013
Mega infrastructure project in use
view details
Construction progress, October 2012
17 October 2012
Four new bridges over the Dieze River in 's Hertogenbosch
view details
Dieze railway bridges front page news!
12 April 2012
Supports finished - bearings arrive in Den Bosch
view details
Construction of bridges decided
23 February 2011
34 million extra for Dieze Bridges 's-Hertogenbosch
view details
Dieze Bridges 's-Hertogenbosch
10 May 2010
Co-production of WeLoveTheCity and Marius van den Wildenberg
view details